Kent man, 75, completes Death Valley ultramarathon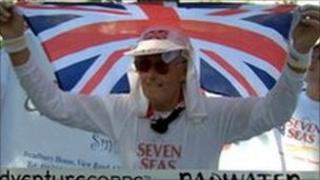 A 75-year-old grandfather from Kent has beaten his own record of being the oldest person to finish one of the world's toughest endurance races.
Jack Denness, of Rochester, completed the 135-mile race through Death Valley in California at midnight on Wednesday local time.
The part-time caretaker, nicknamed Death Valley Jack, crossed the finish line in 59 hours and 13 minutes.
It is the 12th time he has finished the event, dubbed the world's hottest race.
Runners in the Badwater Ultramarathon face temperatures of up to 55C (130F).
'Last ultramarathon'
Mr Denness said: "It's like a family out here in Death Valley. We look out for each other.
"It's not about winning or losing but about helping people reach the finish line."
He was already the oldest person to have finished the event before this latest race.
Mr Denness said this year's Badwater Ultramarathon would be his last.
He took up jogging at the age of 45 when he gave up smoking, but has since run more than 150 UK marathons, including 14 London Marathons.
In 2005, he became the first 70-year-old to finish the Badwater Ultramarathon.
He has raised more than £100,000 for charity since he began running, and this year was collecting funds for Kent-based organisation Cerebral Palsy.
He added: "The staff are so dedicated to the kids and it's an honour to do what I can to help them in their work.
"Seeing how the money raised benefits the children is motivation enough for me when I'm running."