High Hunsley dig: Archaeologists hunt for deserted medieval village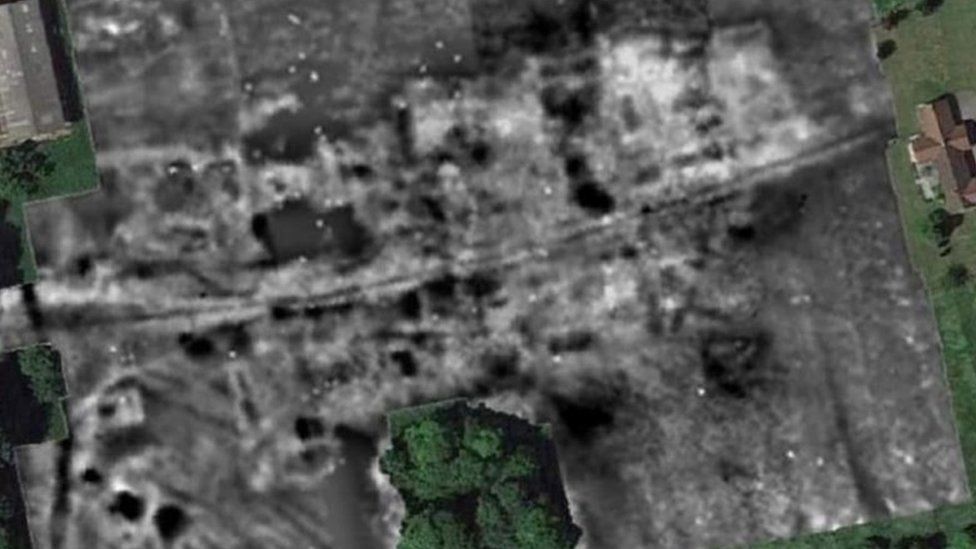 Archaeologists believe an East Yorkshire hamlet could be hiding one of the UK's "best preserved, deserted medieval villages".
Geophysical surveys of the site in High Hunsley, near Beverley, have revealed more than a dozen stone houses.
Test digs carried out earlier this year also unearthed pottery dating back as early as the 12th Century.
However, project manager Diarmaid Walshe thinks the settlement could have its roots in the 5th or 6th Century.
In an effort to uncover the truth about the findings, a three-week "community dig" led by Humber Timelines and Ethos Heritage CIC will begin on 16 July.
Mr Walshe said: "The High Hunsley excavations will explore the rich history of the area, looking at one of the best preserved deserted medieval villages in the UK.
"It could cast a huge light on part of the East Riding's heritage we have forgotten.
"The project will try and discover who lived there, how they lived and why the village was abandoned."
The owner of the 20-acre site, which is currently used for grazing, is "extremely enthusiastic" about the excavation, said Mr Walshe.
"If you look closely at the images, you can see the outlines of the houses," he said. "In the top left corner you can see a large building that may well be a church."
From examining paper records, photographs and artefacts unearthed during the test digs, Mr Walshe has been able to deduce that the last houses were "probably abandoned in about 1820."
He said he hoped the dig could shed further light on why the village was deserted.
"We know that in the 16th and 17th Centuries a lot of land was enclosed," said Mr Walshe. "People were kicked off the land by wealthy landowners.
"Cities then began to expand. It was no longer profitable living in these areas."
Mr Walshe said archaeologists would employ a tried and tested method called "open area excavation".
"This will involve a large 10 x 25m area being excavated over what we believe is a medieval house," he said.
Analysing finds, such as pottery, glass, buttons, and coins and the level at which they are found would help determine when the village was occupied, said Mr Walshe.
Related Internet Links
The BBC is not responsible for the content of external sites.