Paul Spence: 'One punch' victim's 10-year path to recovery
By Kevin Shoesmith
BBC News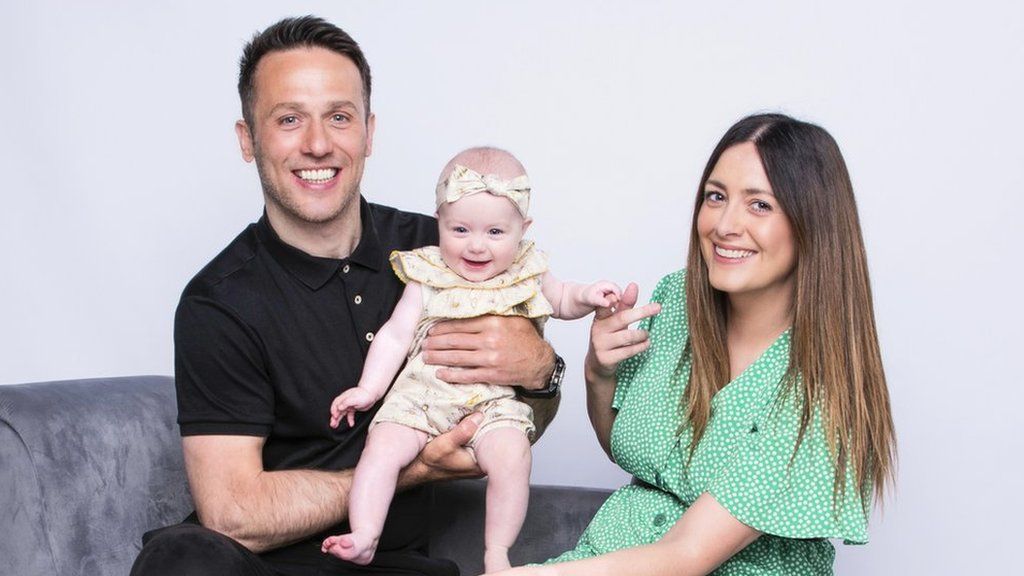 Ten years ago Paul Spence hit rock bottom. The victim of an unprovoked attack in a Hull bar, which left him with a brain haemorrhage, his previous life ended. Paul tells the BBC how he is rebuilding his life to become a voice for others with brain injuries.
Paul Spence cradles his baby daughter.
Gracie Spence is his "little miracle"; the light cutting through the fog of major brain trauma.
Dazed and depressed, Paul became a "shell of man" and was "no longer the man" partner Gemma Clement fell in love with.
But Paul has spent the past decade "rebuilding" himself physically and emotionally.
"Gemma and I split up in May 2013," says Paul. "I was with her for 10 years. I was no longer the man she fell in love with. I was distant. I was more like a robot than a man. She was grieving for someone who was still living."
Paul and Gemma, who live in Willerby, East Yorkshire, reunited in 2015, with Gracie arriving in December 2020.
"I feel very fortunate," he says. "My family and friends have got me through some very dark times."
On Easter Sunday, 2012, Paul was out with friends and family. While using the toilets, a fight broke out in the lounge area of the bar. A person came into the toilet and punched Paul, sending him crashing to the floor. Paul's head hit the tiled floor, knocking him unconscious.
Paul, now 42, was taken to Hull Royal Infirmary where consultants told his family he was "lucky to be alive".
He says: "Overnight, I was no longer able to be the dad that I wanted to be. I was a fragile man. Before, I was very thoughtful. Now I was not making sense a lot of the time.
"I didn't leave the house on my own for four months. I had been in hospital for two months. I lost all independence."
Paul, an electrical engineer since aged 16, was well-supported by his employer but found it impossible to continue.
"I was a foreman managing a team of 20 lads and half a million pound contracts," he says. "I had loads of skills. After the brain injury, I just couldn't do it anymore. I was hiding behind people."
His brain injury affected all areas of his life.
"Brain injuries can affect you in lots of different ways," says Paul, who is also father to Reece Spence, 23, and Shannon Spence, 24, from previous relationships.
"Shopkeepers would say to me, 'So are you going to pay me?' I'd completely lost my train of thought."
Paul was referred to a neuropsychologist. He found the coping strategies he was taught useful but felt one hour a week was insufficient.
"I saw there was nothing in the community to help me and my family to seek support," he says. "I wanted to be a voice for other people who have brain injuries."
Initially, Paul charted his recovery on a Facebook page called Paul Spence - My Brain Injury. People began contacting him, asking me if he would come and see their relative who had also sustained a brain injury.
Paul says: "People would tell me, 'You just get it'. I became the voice of reason for people in the early stages of brain injury. I would say to families, 'It's okay not to understand. Give them time. They're doing their best.' I'd pass on some coping strategies that I found useful."
Key to his own recovery has been physical challenges. Paul and his supporters have raised thousands of pounds for good causes, including £17,000 through a sponsored half marathon, just months after the attack.
As word of his journey spread rapidly on social media, Paul arranged a meeting with Hull's NHS Clinical Commissioning Group to see how he could help support others.
"I told a manager that in my opinion the provision in the community, at that time, for people with brain injuries was rubbish," he says. "She asked me to put together a business plan. I didn't have a clue what a business plan was. But I was passionate."
Supported by friend and lawyer Neil Hudgell, Paul put the plan together and he was offered premises in The Wilberforce Health Centre in Story Street, Hull.
Paul reveals how he came up with the name for the charity.
"I was sat with my mum at home trying to think of a name for the charity," he says. "She asked me what I was trying to achieve. I reeled off 'positivity, awareness, understanding and love'. Well, the first letter of each of those words spells out PAUL. So that's what I decided to call the charity.
"We have seven brilliant members of staff and a fantastic team of ambassadors who organise fundraising events and promote our work."
PAUL For Brain Charity provides support, guidance and education.
Paul's attacker, a 47-year-old man, was convicted at Hull Crown Court of causing ­grievous bodily harm and jailed for 16 months.
Despite the impact of the attack, Paul bears no hostility to his attacker, stating that he forgives him.
"Anger just wore me out," he says. "Justice was served. I had limited energy and I needed to use it well. I forgive him. I have no grudges to bear. I have built a good life for myself, helped by some good people."
PAUL For Brain Charity in numbers
6,000 visits to the centre by brain injury patients and their families since opening in 2016
250 health and wellbeing activity sessions annually
100 people, on average, attending social activities each month
40 targeted support interventions, on average, each month
15 new referral,s on average, each month
8 people supported, on average, each month to access other relevant services
Related Internet Links
The BBC is not responsible for the content of external sites.