Derelict Hull Shirethorn House turned into 'magical' arts hub
By Pritti Mistry
BBC News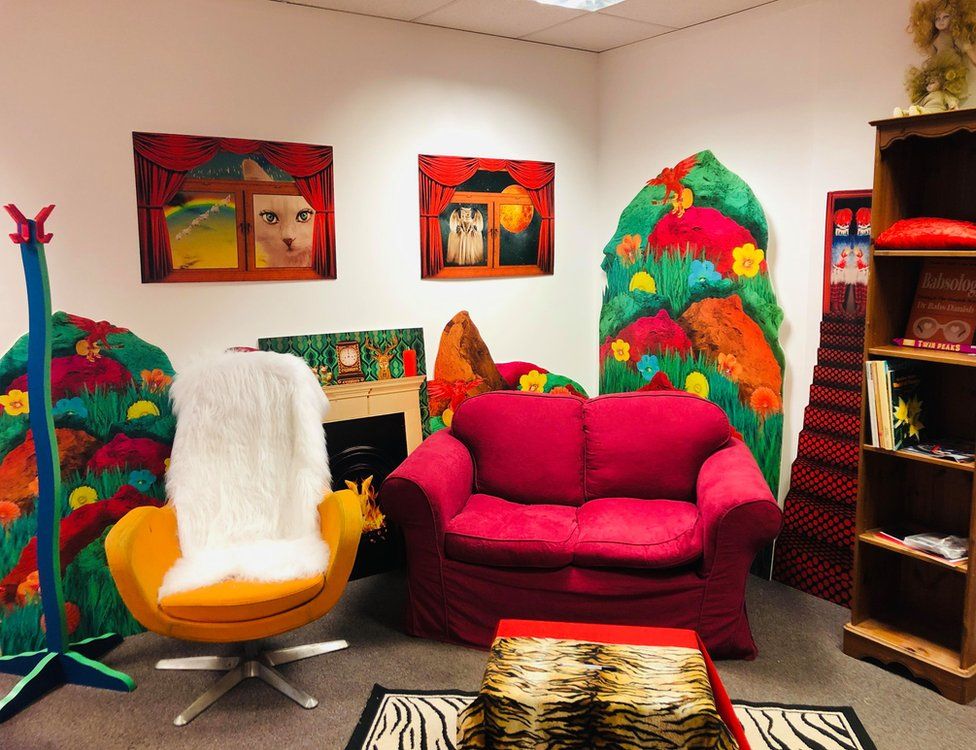 More than 30 artists have transformed a derelict city centre building into a "buzzing arts hub".
Shirethorn House, in Hull, contains some 4,366 sq m (47,000 sq ft) of office space above a charity shop and training centre. But the local landmark, on Prospect Street, has been empty since 2019.
Organiser Michael Barnes-Wynters said it was a "much-needed" space for artists to work collaboratively.
Each floor of Shirethorn House is being used by practitioners from different disciplines including visual arts, dance and virtual reality.
"There's a spark, which I have not witnessed yet in this city, which is happening here at the Shirethorn. Everyone's connecting with everyone, and they did not do that before," said Mr Barnes-Wynters.
"You know as artists we're always used to cold, concrete, damp studio spaces and this is actually completely opposite with carpets everywhere. And already all the public spaces have been turned to gallery spaces.
Painter Ethar Dirar, who rents a space with four other members of her family, said their studio felt "like luxury".
The 23-year-old and her family spent four years living at a refugee camp in Egypt after fleeing Western Sudan, before resettling in Hull in 2015.
She said she felt inspired by meeting other artists.
"We've made a lot of friends, a lot of connections and I have to say that helped us to feel like we are at home."
Cartoonist Sean Azzopardi, who has also been renting a space since the summer, said it had allowed him to form new professional relationships.
"I like the idea of learning new skills and new ideas from people. For instance on my floor we've got circus entertainers and actresses - two things that wouldn't normally come into my sphere of contacts."
Bluebeany says she acknowledges the space being temporary as the building awaits either demolition or redevelopment.
Leeds-based East Street Arts, which procures empty buildings for artists, said Shirethorn House was in the "top 5% of the biggest" it had used.
Despite the temporary nature of the property, the spaces "can really change the energy in an area when you've got that many creatives working in the building", said Henry Sanderson, from the organisation.
He said such projects could help to turn around "declining High Streets".