Beverley bullocks: Escaped cattle seen grazing in gardens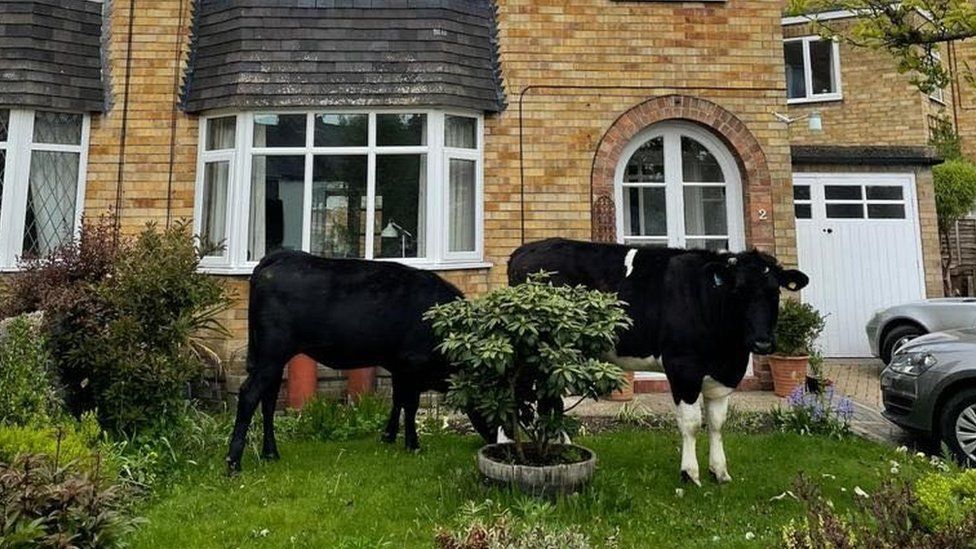 A group of wandering cattle were seen grazing in people's gardens and eating hedges after escaping a field and getting lost.
The seven young bullocks were spotted on Woodlands Road in Beverley, East Yorkshire, earlier, before moving to streets around Atkinson Way.
BBC journalist David Harrison caught one of them eyeing up a trampoline.
The cattle, which had come from nearby Beverley Westwood, were rounded up soon afterwards and returned home.
Mr Harrison, who shared the images on Twitter, noticed one last cow was left behind.
He said: "Ah, one stray cow hasn't quite got the memo that they're all off home.
"This is the cow equivalent of going to the bar and returning to the dance floor, with your mates nowhere to be seen."
All the cattle were back at Beverley Westwood by 11:00 BST.
The pastureland is home to hundreds of the farm animals, but they have been known to wander out as there are no surrounding gates or cattle grids.
Mr Harrison tweeted: "The cows regularly walk across roads and sometimes venture in, but not quite as far."
Beverley has four pastures, Figham and Swinemoor, and Westwood and Hurn.
Chairman of the Beverley Pasture Masters, Allan English, said: "Until the bullocks settle down, they tend to ramble about - they are like little kids.
"The residents don't mind as long as they don't do any damage, and we soon get them back on the Westwood," he said.