Withernsea Lighthouse: Drone snaps birdseye view of new paint job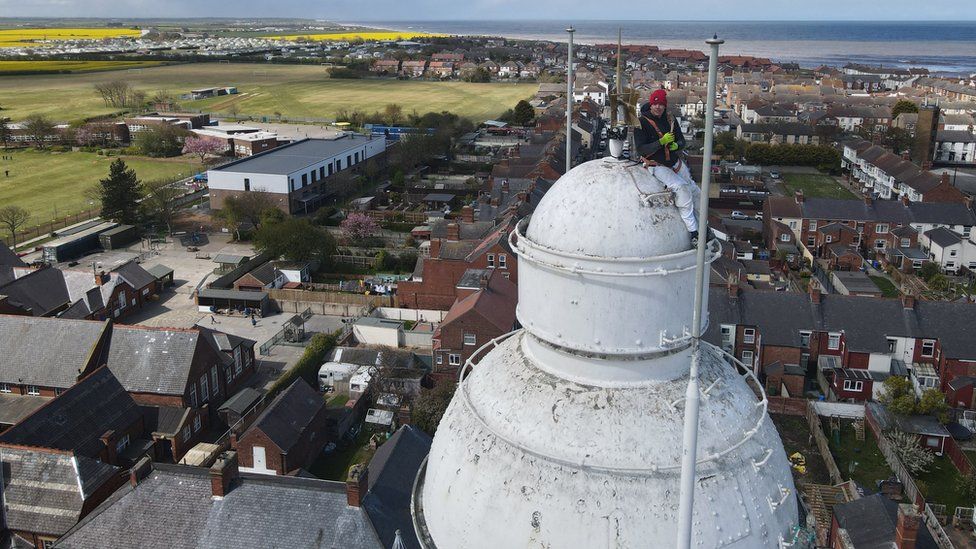 Dramatic images taken by an amateur drone photographer have captured an unusual angle on the repainting of a seaside landmark.
Andy Medcalf focused on the work on Withernsea Lighthouse, which towers above the East Yorkshire town.
The octagonal Victorian building was once a working beacon for ships but is now a museum and visitor attraction.
Mr Medcalf said: "I was never nearer than about ten metres but the drone camera gives a magnification effect."
The licensed drone operator said he knew the lighthouse was due to be painted and spoke in advance to the painters and staff at the lighthouse about his plan to view the work from on high.
"The painters were very happy I was filming and I kept to a safe distance with the drone and waited till the man on top was harnessed," he said.
"I controlled the drone from the lighthouse's garden."
When the lighthouse was built between 1892 and 1894 there were only sand dunes and a lake - known locally as a mere - in front of it, but the town later expanded.
The building was last used to guide ships in 1976 and its light had a range of 17 miles (27 km).
Mr Medcalf, an IT project manager, said: "It's a very unusual building, but if you've grown up with it, it is just always there. I used to live in the same street.
"It used to flash into my bedroom window as a child and I can remember it stopping in 1976."
The lighthouse keepers' cottages at the base of the landmark are now home to a museum expected to fully open again in June.
Related Internet Links
The BBC is not responsible for the content of external sites.