Election 2021: Why is turnout so low in one Hull ward?
By Jen Bateman & Tim Dale
BBC News, Hull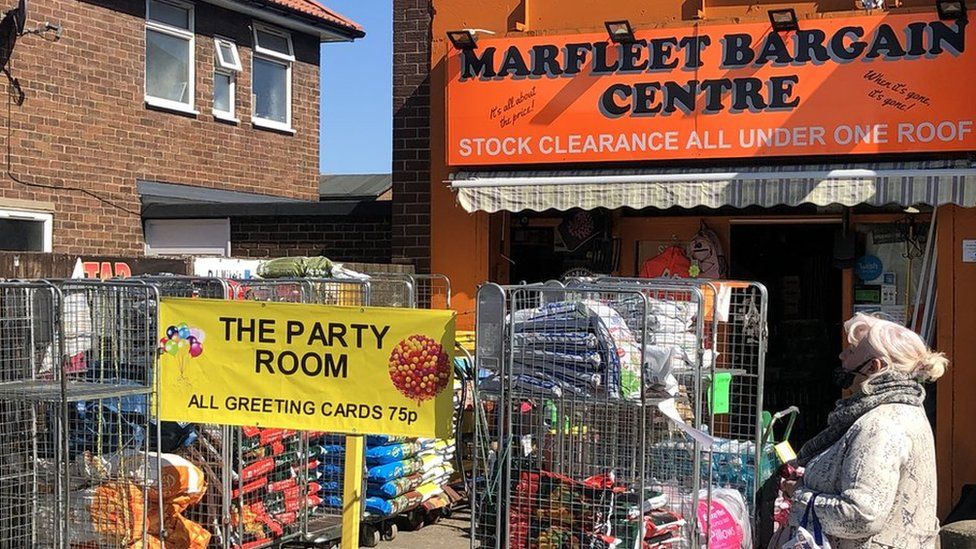 Voters in England go to the polls on 6 May to elect councillors, mayors and police and crime commissioners.
But, for the people of Marfleet in Hull, will it just be a day like any other?
Only the Charlton and Cribbs ward in South Gloucestershire had a lower turnout of 12.1%.
Pauline French is chair of the local residents association and has lived in Marfleet for more than 40 years.
"It's the age, everything is changing," she says.
"I vote, my husband and my son don't. They can't be bothered, don't want to know - they think if they vote they won't be heard."
Marfleet Lane is the main shopping street in the area and has a mix of charity shops, takeaways and betting shops.
The ward is also home to rugby league team Hull Kingston Rovers and there is a fierce rivalry between the red and white supporters of Rovers and the black and white fans of Hull FC to the west.
It is one of the most deprived wards in the city and in January just under 12% of the working age population were claiming unemployment benefit, according to the Department for Work and Pensions.
Pauline said the lack of engagement in the political process goes both ways.
"We don't see any candidates, there's no canvassing, if you get the leaflet pushed through then there's a lot of people that can't read, they look at it and throw it away," she says.
"So they don't know really what we have to vote for and they just aren't interested."
Janet Goforth lives on the Greatfield estate and volunteers at St Philips community food bank.
"I grew up here, had my family here...people stay in the area," she says.
One of her main concerns is a lack of investment in activities for children.
"There's nothing for the older ones to do," she explains. "They need opportunities to improve their self-esteem, they need their confidence building up."
So will people living in Marfleet be voting this time or not?
'People don't believe in politicians'
Charity shop volunteer Pete Stephenson says he has always voted and will again on 6 May.
"If you don't vote, you can't complain," the 74-year-old said.
"You need someone to come and say 'what do you need?' If nobody votes what do we do?"
When asked why so few people in the area vote, he said: "I just think it's laziness or an attitude.
"People don't believe in politicians."
Kirsty Adams said she believed everybody should vote.
"It's for the community and stuff isn't it? It just makes the area better. I am hoping it does anyway.
"Everybody should vote. It helps Hull, it helps the community and I think it brings everyone closer together."
The 36-year-old mother said she had always voted, as had her family.
She had one view on those who do not vote: "They are just lazy, they don't bother do they?"
Analysis by Tim Iredale, Political Editor BBC Yorkshire & Lincolnshire
Marfleet is one of a number of wards in Hull where turnout is consistently below the national average.
There is a clear pattern to suggest people in more deprived areas are less likely to vote, especially in council elections.
The reason, according to political expert Professor John Curtice, is that many think "general elections matter and local elections do not".
Some feel it is their democratic responsibility to turnout every four or five years to elect a government.
But that same sense of duty is not always felt when it comes to choosing a councillor.
Low turnout is often attributed to apathy and a sense that putting a cross in a box changes nothing.
Yet many have strong views about the services delivered by local councils, such as education, social care, planning and local transport.
The challenge for election candidates is to convince more people that using their vote could make a real difference to place where they live.
School caretaker Thomas Oates said he would not be voting. "It doesn't interest me, never has," the 33-year-old said.
He said he had voted in the past, but "with all that's going on I am just not interested".
"Nothing really puts me off, you hear one thing and then you hear another thing."
He could not explain why so many people in the area shared his view and opted not to vote.
"It's personal preference whether they do or they don't.
"Not a lot of people are clued up on it all."
John Clint, 82, will be going to the polling booth.
"I think everybody has to vote, it's one way of putting our views forward," the retired postal worker said.
He said he would not like to say why the majority of people living in Marfleet did not vote.
"Maybe we are all getting a bit too lazy to do this sort of thing nowadays," he said.
"A couldn't-care-less attitude."
Pauline Ostler said she doubted she would vote on 6 May.
The 81-year-old said she could not remember the last time she had cast her ballot.
"I wouldn't know who to vote for. I haven't took a lot of interest in it," she explained.
Whether or not voters in Marfleet turn out this time, the elected officials who take their positions after 6 May will have a large say in how the area is shaped in the future.
The concerns of residents over anti-social behaviour and lack of engagement among young people will still need to be answered.
Related Internet Links
The BBC is not responsible for the content of external sites.