Brexit: UK pig exports 'facing a crisis'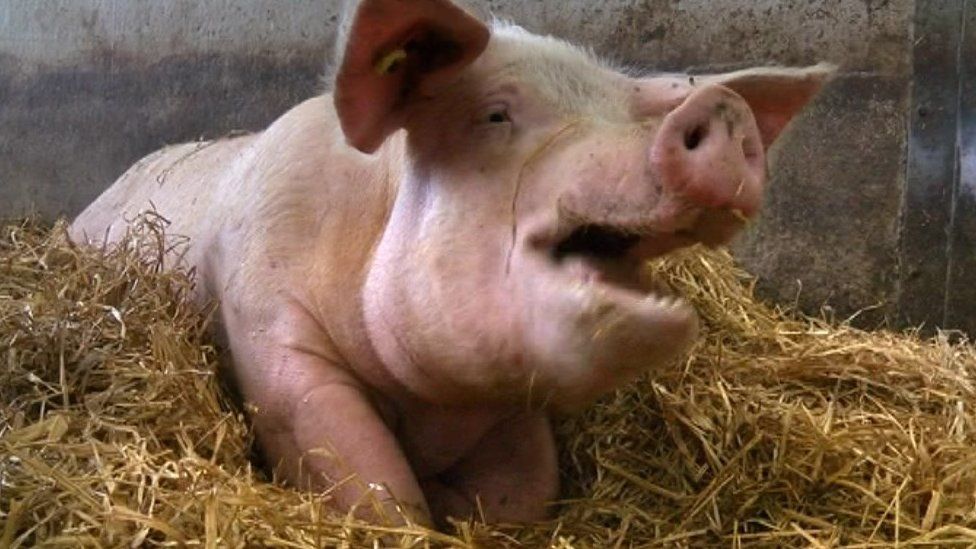 A "perfect storm" of Covid impacts and post-Brexit bureaucracy threaten to plunge British pig farmers into a crisis, an industry body has warned.
The National Pig Association (NPA) said there were 100,000 animals in the UK unable to enter the food chain.
Farmers in Yorkshire and Lincolnshire, which has about a third of the backlog, said prices had dropped as pigs grew too fat to meet industry standards.
The government said it continued to work closely with producers.
NPA policy adviser Charlie Dewhurst said members had reported delays due to "excessive bureaucracy" and new rules governing exports since Britain officially left the EU.
The coronavirus pandemic has also hit meat producers' staffing levels, causing "a major problem in the food supply chain", he said.
"Absenteeism in the processing units and the export problems have really exacerbated what was already a tough time for the industry," he said.
'Can't stop them growing'
Farmers told the BBC they have found themselves saddled with animals they would usually have sold.
Anna Longthorp, who runs Anna's Happy Trotters, based in Howden, East Yorkshire, said "abattoirs want pigs that are a particular weight".
"If you get a few weeks on the trot when pigs aren't going to the abattoir it causes real issues.
"It means we don't have enough room for them and the pigs are getting bigger and bigger [and] we can't stop them growing."
Kate Moore, who helps run the family farm at Pockthorpe Hall, near Driffield, said they were also facing issues with overweight pigs as a result of the backlog.
"We have to produce to a certain specification... and if we don't hit the spec we don't get paid for the product," she said.
She said she thought the whole point of leaving the EU had been to look after "our own industries better" but instead "all we are doing is selling ourselves down the river".
Nick Allen, chief executive of the British Meat Processors Association, said the new system had been "challenging" to navigate and exports to the EU were running at about half the normal rate.
"To my knowledge they've already corrected something like a 125 technical issues in the system in the first month," he said.
"That's why we really needed to stress-test the system, but negotiations went right up to the last minute and we were thrown in the deep end really."
The government said it continued to work closely with producers to ensure they could take advantage of the opportunities of being outside the single market.
A spokesperson said: "We've always been clear that there would be new processes for traders, and we continue to support them in their transition to these new arrangements."