Coronavirus: Vandals target buses taking Hull medical staff to work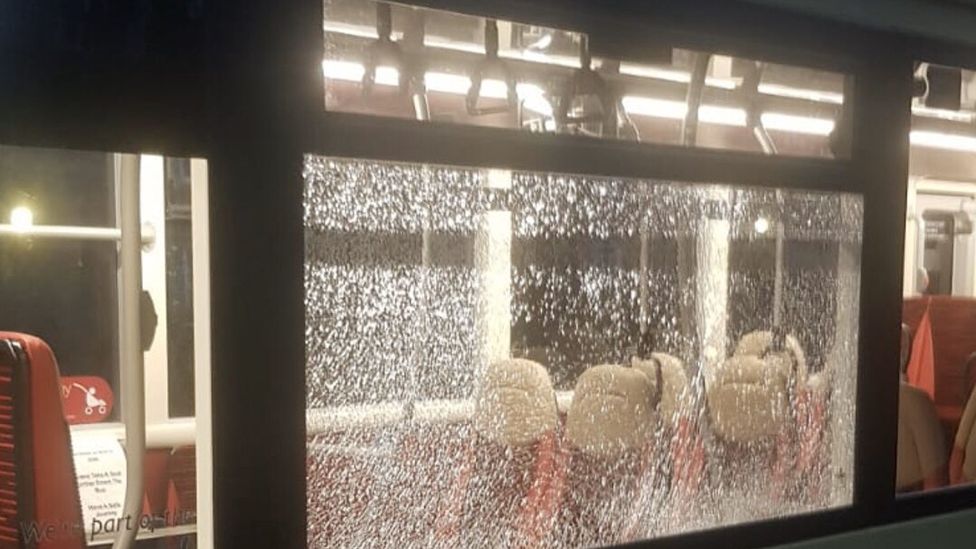 Vandals smashed the windows of two buses which were taking medical staff to work at a hospital.
Objects were thrown at the vehicles outside Castle Hill Hospital near Hull on Sunday evening.
East Yorkshire Motor Services said no-one was injured in the "appalling" attack.
Ben Gilligan, from the company, said three teenagers were detained by security staff at the hospital and were later arrested by police.
Mr Gilligan said the company had redesigned its services to transport medical workers after seeing a drop of 90% in passenger numbers.
"It's really disappointing that firstly these youths were out on the street, but secondly that our services that are driven by key workers and provided for key workers were targeted in such a way," he said.
"It knocks passenger confidence and it also results in extra expenditure for us at a time when we've seen a massive drop in revenue.
"So all round it causes a lot of inconvenience to people and I think it does worry our staff about going out there and working in a difficult time."
Insp Julian Hart from Humberside Police said: "Three local youths have been identified as being involved and they will be interviewed in connection with the incident."
He added: "Thankfully no one was injured in the attacks but this is wholly unacceptable behaviour and we will make sure this dealt with in the most appropriate manner."
In South Yorkshire, a medical centre reported attacks on a number of cars belonging to staff on Monday.
Lakeside Practice in Askern near Doncaster said in a Facebook post that the attack had caused "significant fear and distress to our staff" and prevented people getting to work.
Police said a 40-year-old man was arrested at the scene on suspicion of causing criminal damage.
Related Internet Links
The BBC is not responsible for the content of external sites.