Protests over plans for new prison in East Yorkshire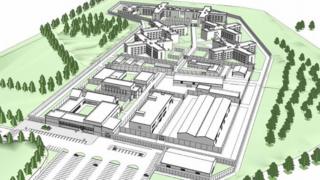 Campaigners opposing plans for a prison housing more than 1,400 inmates in East Yorkshire said the development would "dwarf the village".
The government wants to build a Category C jail at Full Sutton, next to an existing maximum security prison.
The Ministry of Justice (MoJ) has already gained planning permission to build a 1,000 capacity prison, but has now applied to expand the facility.
Dozens of people held a protest on Saturday against the revised plans.
Protesters gathered in the nearby village of Stamford Bridge on Saturday singing chants and holding up banners reading: "No to mega prison."
David Wakefield said the area would be unable to cope with the extra traffic.
"There's six four-storey, 50 foot high buildings," he said.
"Floodlit accommodation blocks and lots of other buildings.
"The actual size of this new prison development will dwarf not only the existing Category A prison, but will dwarf the village."
Another protester, 70-year-old Colin Clarke, who has lived in the area for more 20 years, said of the proposed jail: "Structurally, it's going to spoil the village. It's going to make it a place that's less desirable for people to want to live.
The MoJ said the new prison would house 1,440 men, mostly in single cells who were "assessed as being low risk of making an escape".
In a statement, it said: "We continue to engage with local stakeholders and the community regarding our plans for the new prison and have submitted a planning application to the East Riding of Yorkshire Council.
"This new prison is part of a significant investment across England and Wales to modernise prisons, it will boost the local economy and create jobs."