Hundreds of dead chickens dumped in Grimsby street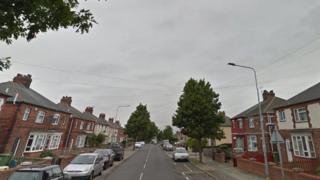 More than 200 dead chickens have been found dumped in a street.
The chickens were found at the front of an empty house on Second Avenue in Grimsby, Lincolnshire.
North East Lincolnshire Council said its street cleansing team would have to clean up the "stinking, disgusting mess".
The authority said fly-tipping was a serious offence and it was investigating how the dead birds came to be there.
It has urged anyone with information to report it to them.
The gruesome find was made by a mother taking her six-year-old son to school.
She told BBC Radio Humberside it was "totally unacceptable" for someone to act in this way.
"There were quite a few baby chicks that had been booted around the street and under the blue bag was a horrific scene of baby chicks that had been disposed of," she added.
Responding to a council post about the grim discovery, one Facebook user said: "Why would anyone do that? And where on earth has 200 chickens come from?"
Another added: "This was awful and horrific to see, especially as young children had to pass en route to school."