Jenni Murray: University of Hull to review theatre name change amid trans row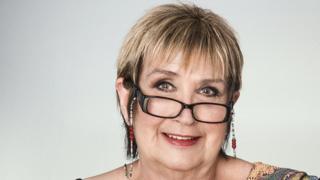 A university will review its decision to name a lecture theatre after Dame Jenni Murray after protests over her comments about transgender people.
The University of Hull's plan to honour the BBC Radio 4 host sparked a backlash from staff and students against an article she wrote in 2017.
Writing for the Sunday Times, she said "it takes more than a sex change and make-up" to "lay claim to womanhood".
The university said it would carry out a review in light of the reaction.
Dame Jenni, who has been approached for comment, has previously denied being "transphobic or anti-trans".
She said she believed transgender people "should be treated with respect" and "protected from bullying and violence".
Plans to honour the broadcaster and five other alumni - Ayesha Hazarika, Lady Justice Eleanor King, Indhu Rubasingham, Rosie Millard and Marianne Elliott - were announced in November.
More news from across Yorkshire
However, ahead of a "Women in Leadership" event on Monday, at which Dame Jenni was due to speak, staff and students called on the university to reverse the decision.
A statement issued by the Student President team said: "We oppose the naming of a lecture theatre after Jenni Murray.
"We do not believe that someone who holds these views should be presented as a role model to students."
The university said Dame Jenni had been chosen in recognition of her "distinguished career as a broadcaster and journalist".
However, it added that as a university "striving to accelerate our equality, diversity and inclusion agenda" it would take feedback from staff and students into account as part of a "comprehensive review" of the decision.
Dame Jenni pulled out of an Oxford University talk last month after the student union's LGBTQ Campaign criticised the comments she made in the Sunday Times article.