RSPCA abseilers rescue gannet on Bempton Cliffs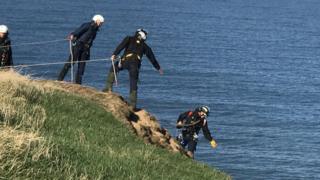 Abseilers have swooped in to rescue a seabird that was trapped on a cliff with rope around its leg.
The juvenile gannet became tangled in its nest halfway down the 300ft (91m) chalk Bempton Cliffs in East Yorkshire on Monday.
It was spotted after its parents flew off for the winter along with thousands of other migrating gannets.
RSPCA abseilers from around the country descended 150ft (45m) down the cliff to free the "clearly distressed" bird.
"The bird had extensive line and plastic wrapped round its leg and would never have been able to fly and leave the nest without our assistance today so we're all extremely happy," a RSPCA spokesperson said.
On its Facebook page, the RSPB at Bempton Cliffs said the gannet had been assessed by a vet.
It said: "First reports indicate that its foot is warm above and below the twisted rope which is good news."
The bird was due to be taken to the RSPCA's Stapeley Grange Wildlife Centre, in Cheshire.
Speaking before the successful rescue, RSPCA wildlife officer Geoff Edmond said: "We've got the only colony of mainland gannets in England in Bempton.
"This bird has been left here, its parents are gone, it wants to be out feeding with the rest of the thousands and thousands of pairs of gannets."
Gannets arrive at their colonies from January onwards and usually leave between August and September.
Bempton has around 20,000 of the birds which pair for life and can live for more than 20 years.
Many use fishing lines and rope to create their nests.
Gannets are the largest seabirds in the UK and do not breed until aged five.
Other birds at RSPB Bempton include Kittiwake, Guillemots, Razorbill, Fulmars and Puffin.