'Peace made' over Grimsby WW1 Zeppelin crash deaths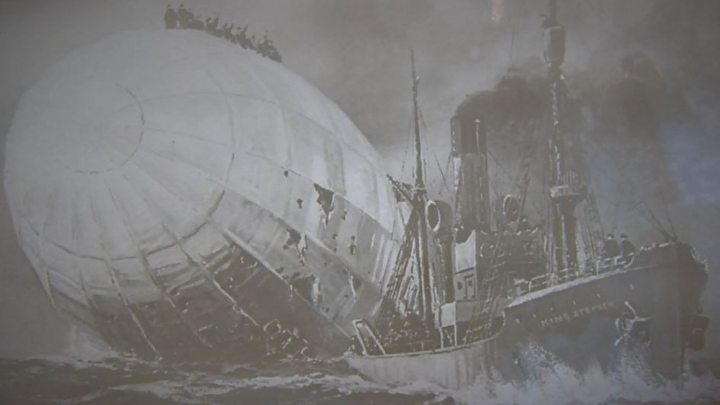 The great-grandson of a trawler captain who left 16 Germans to die on a crashed Zeppelin in 1916 has met a relative of one of those who perished.
Pat Thompson wanted to meet Emile Specht, whose uncle Heinrich drowned in the North Sea more than 100 years ago.
Mr Thompson's grandfather William Martin found the airship off the coast of Grimsby, with the Germans still alive and clinging to the wreckage.
He ordered his trawler to turn away rather than save the men, who all died.
The Zeppelin was on a bombing mission to the north of England when its engines failed.
Mr Martin had spent hours on 2 February 1916 deliberating whether to save the men, but said they outnumbered his crew on the boat the King Stephen.
The story made headlines in the UK and abroad at the time.
According to Mr Thompson, the decision haunted his great-grandfather, and he died the following year aged 45.
Mr Thompson told the BBC four years ago he wanted to meet Heinrich Specht's family and said he wanted to ask their forgiveness.
"When I look at it, I don't feel guilty because it was a different period in life. Who knows what we would have done, because we were at war."
Mr Thompson met Mr Specht in Grimsby and they hope their meeting will help provide closure for the families.
They visited the grave of Mr Martin together and Mr Specht offered these words to the trawlerman's family: "Today on behalf of my family, I come to bring our forgiveness."
Mr Specht then went out on a boat to be close to the area where his uncle died.
He said: "I am feeling quite emotional to be here in the North Sea where my uncle disappeared in such terrible circumstances.
"It is really affecting me to be here, even though it happened 100 years ago."
At the time, Zeppelins were a new and deadly weapon of war.
Maritime historian Robb Robinson said: "The Zeppelins were bringing the war to the civilian populations.
"They were dropping bombs and this was completely new.
"There were very high feelings, not only to the German high command but also to those who commanded and operated the Zeppelins."
You can see the full story on BBC Inside Out Yorkshire and Lincolnshire at 19:30 GMT on BBC One on Monday 5 November or via iPlayer afterwards.