'Gut instinct' helped catch Hull child rapist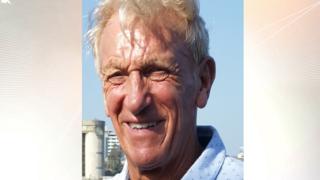 A holidaymaker who helped catch a child rapist he saw with groups of young girls said "gut instinct" made him alert the authorities.
David Bushell reported Keith Morris, 72, after observing him with groups of 10 to 12-year-olds at a hotel in Kenya.
He contacted the National Crime Agency (NCA) as he believed something was "seriously wrong", he said.
Morris, from Hull, was jailed in July for sexually abusing two girls he met during repeated trips to east Africa.
Yorkshire breaking news: 'Urgent' talks needed to avoid city flood repeat; Woman's sepsis death 'avoidable'
During his trial at Leeds Crown Court, jurors heard the retired locksmith repeatedly visited a rural village in Kilifi County over a period of about 20 years.
In that time he befriended and helped vulnerable families, with many villagers regarding him as a father figure to local children.
The court heard he then used his elevated status to groom young girls by taking them on trips.
The NCA said Mr Bushell's report had been "integral" to securing Morris' conviction.
Mr Bushell, from London, said he had watched Morris over three days after seeing him with a number of girls aged between about 10 and 12 years of age.
He said: "I felt like something was wrong but I was not really sure why the alarm bells were ringing.
"By the second day I felt like I just wanted to go and confront him and ask 'What are you doing with these children? What relationship are they to you?'."
'Act on your instincts'
He said when he questioned hotel staff about Morris he was told he was in the process of adopting eight girls.
However, Mr Bushell was so concerned he referred Morris to the National Crime Agency in 2017.
Morris went on to be convicted of four counts of rape, four counts of assault by penetration, two charges of sexual assault and two counts of perverting the course of justice.
Mr Bushell said he believed people should act on their instincts.
"Ultimately if there is nothing wrong then all you will do is cause someone a small amount of stress but if there's something seriously wrong you may save someone's life or save them from the horrendous actions of someone that is quite monstrous," he said.
Mike Canning, from the NSPCC, said: "Gut feelings are important. If something doesn't feel right it's often because it isn't right.
"We would encourage anyone who has got a concern to phone up and talk it through."