Man killed himself days after partner's death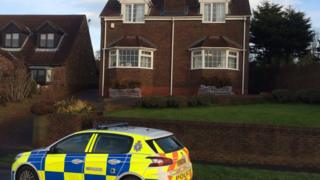 A man left "devastated" after his partner killed herself committed suicide using the same method in the same location, an inquest has found.
David Palmer, 56, was found dead at his home in Buckton, East Yorkshire on 1 January.
His partner, Carol Camm killed herself at the house on 19 December 2017 following a row.
Hull Coroner's Court heard the couple had argued after Ms Camm admitted having an affair many years earlier.
More on this and other East Yorkshire stories
A friend of the couple, who had been together for 36 years, said that Mr Palmer began to drink more heavily following Ms Camm's death.
In evidence read to the court, David Kiddy, who had known Mr Palmer for 30 years, said: "Dave was devastated by the death of Carol.
"He talked about taking his own life on a daily basis."
Another friend told the court Mr Palmer "blamed himself for allowing her to do it".
The inquest into Ms Camm's death heard she killed herself while her partner sat a few feet away watching television.
Coroner Lorraine Harris concluded that, despite support from friends and work colleagues, Mr Palmer had committed suicide in "a replica of how his partner Carol was found".
Mr Palmer was arrested on suspicion of murder following the discovery of Ms Camm's body, but was released under investigation.
Det Con Claire Jackson told the court that no charges would have been brought against Mr Palmer.
Where to get help
If you are in the UK, you can call the Samaritans on 116123.
For support and more information on emotional distress, click here