Cottingham vicar Terence Grigg jailed over child sex abuse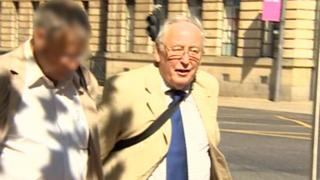 A former vicar has been sentenced to 12 years in prison for sexually assaulting vulnerable boys and young men between 1983 and 1996.
The Reverend Canon Terrence Grigg, 84, of Norton, North Yorkshire, was found guilty at Hull Crown Court on Wednesday.
He was convicted of 14 counts of indecent and serious sexual assault.
As a rector at St Mary's Church in Cottingham, East Yorkshire, he groomed victims, some just 10 or 11 years old.
Det Supt Matthew Hutchinson said: "Terrence Grigg held a senior position within the church and used his position of trust to identify young, vulnerable victims that he groomed before sexually abusing.
"I hope that this encourages other victims to come to us and report their crimes. We will do everything in our power to bring perpetrators of sexual abuse to justice."
The Crown Prosecution Service said it was thanks to the courage of Grigg's victims in reporting his crimes and supporting the investigation he had been jailed.
He had denied 15 sex offences but was convicted of 12 charges of indecent assault and two of serious sexual assault.
Grigg was found not guilty of one charge of indecent assault.