Yorkshire vicar 'unaware he took boy to a gay bar'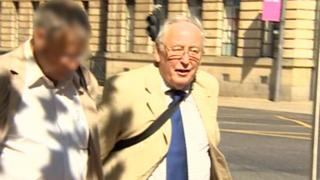 A former vicar has told a court he did not realise he had taken an alleged sexual assault victim to a gay bar.
The Reverend Canon Terrence Grigg, 84, of Norton, North Yorkshire, is accused of abusing five "vulnerable" boys and young men between 1983 and 1996.
Mr Grigg, who was a minister at St Mary's Church in Cottingham, East Yorkshire, denies 11 sex offences.
Hull Crown Court heard he stayed in a hotel room with the boy and visited the bar while on a trip to London.
More on this and other East Yorkshire stories
The ex-clergyman claimed there was no physical contact and they did not sleep in the same bed.
He said he believes the alleged victim was aged either 19 or 20 at the time of the trip.
Boy 'bit prim'
Mr Grigg admitted in court he had taken the alleged victim to a gay bar, but said he did not initially realise it was a gay bar and believed the brightly-lit venue was a better option than going to an "old man's pub".
Jurors heard when the boy pointed out to the vicar all the customers were men, Mr Grigg said he agreed and they had "half a pint then left".
The court heard how Mr Grigg believed the boy needed to see how the world was as he was "a bit prim".
During the trial, prosecutors said the alleged victims were "all vulnerable in some way" and Mr Grigg had used "that vulnerability for his own sexual gratification".
Some of the alleged assaults, which took place in a variety of locations, were carried out when one of the victims was 10 years old, the jury heard.
Another victim kept a coded diary that recorded the alleged abuse he suffered from the age of 14, the prosecution claimed.
Mr Grigg is charged with nine counts of indecent assault and two serious sexual assaults.
The trial continues.