Boy, 6, dead after pellet gun shooting in Sproatley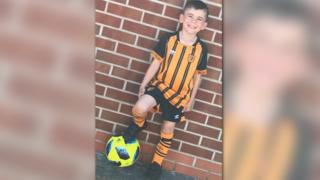 A six-year-old boy has died after being shot with a pellet gun at a house in East Yorkshire.
Stanley Metcalf was injured at a house in Church Lane in the village of Sproatley, at 16:00 BST on Thursday. He was taken to hospital where he died.
Police said he had been visiting a family member and his death appeared to have been a "tragic accident".
Stanley's great-grandmother said he had a twin sister who "loved him to bits" and they "did everything together".
The 84-year-old, who did not want to be named, said: "I don't know how you're supposed to explain things like that to a six-year-old girl."
Yorkshire breaking news: Lightning strikes cause rail chaos; Three homes struck by lightning
She described Stanley as a "brainy, kind little boy" and said the family were devastated.
"I've just been in floods of tears ever since it happened," she said.
"I couldn't even sleep last night, just thinking about him and how tragic it is."
Det Ch Insp Mark Goulding of Humberside Police said: "We're still investigating the circumstances of exactly what happened, but initial indications are that this was a tragic accident involving a pellet gun.
"We haven't made any arrests in connection with the incident, but we are speaking to a number of family members to assist us with our enquiries.
"Our thoughts are with Stanley's family, who have asked that they be given privacy at this very difficult time."
Det Ch Insp Goulding said other family members were in the house at the time of the incident and officers were "still trying to piece it together and work out what happened".
Responding to suggestions that the boy had been visiting his great-grandfather, he said: "I can't comment at this stage of the investigation on that."
He added that officers were looking into whether the pellet gun involved required a licence, and, if so, whether its owner had one.
At the scene: Leanne Brown, BBC Look North
Sproatley is a village to the east of Hull and incidents where the police are called are rare.
It's very quiet here, with just over 1,000 residents.
News quickly spread of the tragic incident and neighbours expressed to me their shock and sadness at what had happened.
One man who lives nearby said: "What can you say? It goes out to the family. You can't even guess how they are feeling.
"It's just so tragic - especially a six year old."
Another neighbour added: "It's so sad, for a six year old, with a pellet gun. You think of your own children don't you, your grandchildren."
A resident who did want to be identified, described the news as "surreal".
He said: "I knew the lad's dad pretty well. He had invited me in for a drink just the other day and was always very friendly.
"They are a very nice, genuine family, so your heart just goes out to them because this is such a tragedy, especially given how young the kid is."