Woman hit grandfather with axe then stabbed him, jury told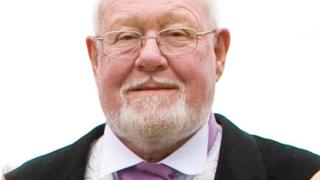 An 80-year-old man was hit on the head with an axe by his granddaughter before being fatally stabbed in the neck and chest, a jury has been told.
The body of James Fish, known to his family as Eddie, was discovered at a house on Grimsby Road, Waltham, North East Lincolnshire, in January.
Rachael Flemington was charged with his murder but has since been deemed unfit to enter a plea.
A trial of facts is taking place at Sheffield Crown Court.
More from North Lincolnshire and East Yorkshire
Richard Woolfall, prosecuting, said Ms Flemington bought an axe and knives on Amazon before going to her grandfather's house on 29 January.
"It appears she hit him on the top of his head with the axe," he said.
"It looked like with part of the axe head but not the blade.
"She then went on to use an eight-inch carving knife that she had purchased a few days before."
Jugular vein
Mr Woolfall said the defendant had been living in Scarborough but had moved back to her mother's home in Waltham a few days before the attack. The axe had been delivered to her Scarborough flat.
He said she stabbed her grandfather three times, with one blow severing the jugular vein in his neck and another going through his lung and aorta.
The jury was told the defendant, of Manor Drive, Waltham, is charged with murder but has been declared unfit to be tried.
Recorder of Sheffield, Judge Jeremy Richardson QC, said: "This is not a normal murder trial which determined guilt or innocence, but a trial of facts".
"There is no meaningful way in which she [Rachael Flemington] can participate in this case. She is in hospital. She is being treated," he said.