Sad horse and toilet troubles among 'nuisance' 999 calls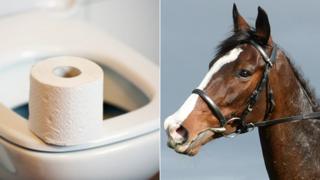 A caller worried about a "sad-looking horse" and a woman who lost the key after handcuffing her partner are among the 999 calls made to Humberside Police in recent weeks.
The force said "inappropriate" calls can cause delays that "could cost someone their life".
It said recent hot weather and the World Cup had led to a rise in calls.
Urging people to think before calling, the force said: "We want to make sure that when you need us, we are there."
More stories from across East Yorkshire and northern Lincolnshire
Among the "inappropriate" calls made to the force are:
A woman wanted police to carry out a lie detector test on her partner, as she thought he may be cheating on her
A woman wanted officers to intervene after a shop would not allow her to return some "faulty" tobacco she had bought
A caller reported seeing a horse which "looked sad" and they were concerned
A woman called to say she had put her partner in handcuffs then lost the key and wanted to know if she could use a police key
Supt Tracy Bradley said: "The number of calls for help we receive is going up every day.
"When we're having to take calls from people who think it's appropriate to ring us and ask the time or for a lift home because their bike has a puncture, it means that it delays the people who really do need us from getting through.
"At best, that means people calling 101 have to wait longer before we can deal with their call. At worst, it could cost someone their life."
Since 1 January more than 250,000 calls have been made to the force.
Other forces have also reported a number of recent nuisance calls to 999 and 101 call handlers.
Nottinghamshire Police said it had taken a 999 call from someone who was "stressed about ants" at their property.
Meanwhile, West Yorkshire Police said in a tweeted: "Calling 999 because you are unable to use the toilet is not an appropriate use of the service."