Minke whale and tope shark wash up on Hornsea beach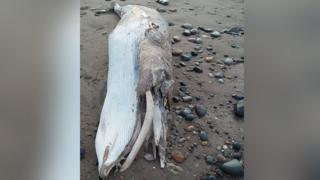 A dead whale has washed up on a beach in East Yorkshire.
The four metre long male minke whale was found by a member of the public on Hornsea beach on Tuesday, experts said. It was reported to Hornsea Inshore Rescue at about 20:00 BST.
Leading coxswain Karl Shannon said it had been dead for about two weeks before it washed ashore on a stretch of beach near Morrow Avenue car park.
A dead tope shark was also found washed up on the same beach on Tuesday.
Mr Shannon, who is also a member of the British Divers Marine Life Rescue (BDMLR) said he believed the whale had died "from an illness" and was "not hit by a boat".
The animal's death is not considered to be suspicious and it is not clear when the remains will be removed.
Details of the shark's death are not yet known, but photos of the sighting were posted on social media.
Mr Shannon said tope sharks, which can grow up to two metres in length, were regularly spotted off the Yorkshire coast.
---
What happens now?
A decomposing whale can be a public health risk and the local council will have to dispose of the body
In some cases they can be left to rot naturally or buried
Many are taken to landfill sites while others are disposed of through incineration or rendering