Hull fishermen service 'to go ahead' after rubble dumped on dock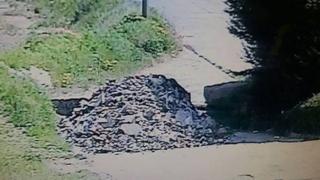 A memorial service to Hull's lost fishermen "will definitely go ahead" despite tonnes of rubble dumped at the entrance to an old dock, a group said.
Organisers Hull Bullnose Heritage Group said the fly-tipping on a path prevented elderly people easily accessing St Andrew's Dock.
It initially claimed the service on 17 June could be cancelled but has now said it would go ahead "regardless".
Chairman Ray Coles said the event on the dock was "of great significance".
St Andrew's Dock - once the heart of the city's fishing industry - has been derelict since the 1970s.
"It's one of the places that we have always gathered to commemorate lost fishermen," he said.
"This is where they sailed from and this is where they came back to when they did come back, and many didn't.
"Twenty-five tonnes of rubble has actually been dropped on that path within the last [few] days."
Mr Coles had said the blocked path meant the elderly and infirm would not be able to access the site and the memorial service would have to be called off.
"I've made a few phone calls since then and this will not be cancelled," he said.
"We'll physically remove the rubble ourselves using scooters if we have to."
'Special feeling'
He said an area on the dock, known as the bullnose, "meant a lot" to the fishing community.
"When you go down there there's a special feeling that when you stand on that bullnose - you know that you're very close to what went on.
"At least 200 men's ashes were scattered from the bullnose. My own brother's ashes were scattered on the bullnose so it holds a lot of meaning for a lot of people."
It is not clear who dumped the rubbish.
Hull City Council has been approached for a comment.