PC Mark Baird 'threatened Polish doorman' while off duty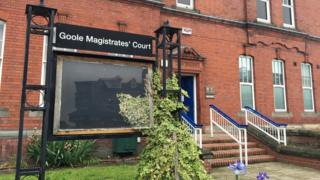 A police officer threatened a Polish doorman he would "smash his head in" and told him to "speak English" after he was refused entry to a Hull bar.
PC Mark Baird drank "in excess of 10 pints" when he racially abused the man outside Tofts in November, a Humberside Police misconduct hearing heard.
He also told the Polish national he was a police officer and knew the law.
Mr Baird apologised and admitted his behaviour amounted to gross misconduct, but denied being intentionally racist.
The panel heard the Polish bouncer was working alone on 8 November when Mr Baird, who was off duty and with two friends, became aggressive after being turned away.
Mr Baird allegedly told the doorman "because of people like you I can't get in" and "hopefully, you're all going to get kicked out".
He then walked away but returned moments later saying: "I'm going to smash your head in."
He also told the bouncer to "speak English" before mimicking his accent, the panel heard.
Footage of some of the incident, which was filmed on a mobile phone, showed the officer slurring his words, the panel heard.
The panel was told the officer had split up with his partner, faced financial difficulties, and was on antidepressants.
PC Baird told the hearing: "I can only apologise for my actions. I'm absolutely disgusted."
The panel heard the officer had no recollection of the incident.
'Respectful to all'
When asked by his defence counsel Mark Ley Morgan about the footage of his behaviour, PC Baird replied: "It will stay with me."
Two colleagues, one of whom is a Polish national, told the panel how PC Baird was a "well-respected, dedicated and highly skilled" officer who was a "real credit to the team".
They described him as being "very respectful to all nationalities".
The Polish officer said she has never received any negative comments from him and that he "always treated people the same way".
Mr Ley Morgan said Mr Baird did not hold racist views and he was not being intentionally racist.
The hearing continues.