MP asks to meet NHS bosses over Withernsea unit changes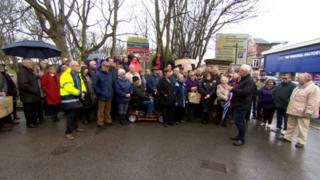 An East Yorkshire MP has asked to meet health bosses over concerns about changes to services in the county.
The call comes after Withernsea's minor injuries unit was downgraded to an 8 to 8 Centre in April, by Yorkshire Clinical Commissioning Group (CCG).
Graham Stuart MP said: "I am extremely concerned by reports of conflicting referrals, unnecessary delays and long trips for patients."
The NHS said the new centre may not be suitable for every patient.
More stories from East Yorkshire and northern Lincolnshire
The 8 to 8 centre does not take walk-in patients but provides a bookable service for minor injuries in the town.
Patients must ring NHS 111 for advice on where to go for treatment, according to the CCG's website.
Mr Stuart, Conservative MP for Beverley and Holderness, said: "From what I have heard from Withernsea residents and councillors local patients are not seeing the benefits of this service."
It has generated "dozens of complaints", according to a local councillor.
Lyn Healing, a Conservative councillor for South East Holderness who lives in Withernsea, said residents who had contacted her "are all confused, frightened and angry".
The greatest problem was phoning NHS 111 and being diverted to Beverley or the Hull A&E "for a plaster and some antibiotics", she said.
Hull Royal Infirmary is more than 18 miles (29km) from Withernsea.
Carole Wauldby, of Hull City Health Care Partnership, said "What can happen is as the patient is asked questions the answers may identify that they have a higher level of need.
"So where people are saying that the 8 to 8 centre isn't there, it's because it's not suitable for them not that it's not open."