Accidental death verdict in Sunk Island farm slurry pit drowning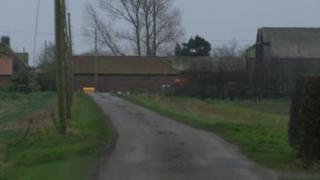 An inquest into the death of two men who entered a farm's slurry tank to remove a blockage has returned a verdict of accidental death.
Alexander Forman, 32, and Richard Pooley, 36, were working on Newlands Farm, East Yorkshire, in December 2015.
A pathologist had told Hull Coroner's Court the men drowned in the pig manure, but would have been unconscious due to the toxic fumes from the waste.
Dr Richard Shepherd said the pair would have been overcome almost immediately.
More stories from East Yorkshire
Mr Forman ran the farm on Sunk Island alongside his father and mother.
The inquest jury recorded a unanimous verdict.
Slurry pit safety
Slurry is a mixture of manure and water and is used by farmers as a fertiliser for their crops.
Gases including methane, carbon dioxide, ammonia and hydrogen sulphide are produced by bacteria during the decomposition of slurry.
Some of the gases are poisonous as well as being flammable.
Slurry gas is heavier than air and during mixing will settle in a cloud over the top of the slurry. Bending down into the gas cloud for even a moment can cause unconsciousness.
After only a few breaths, the affected party could collapse and die as the gas rapidly displaces air from the lungs and affects the nervous system.
Source: Health and Safety Executive