A164 near Beverley to get £50m to ease congestion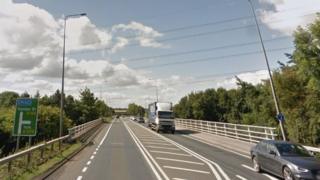 More than £50m will be spent to turn part of one East Yorkshire's busiest roads into a dual carriageway and improve a congested junction.
The junction at Jock's Lodge near Beverley is a "pinch point" according to the Department for Transport.
The A164 runs between the town and the Humber Bridge and carries about 30,000 vehicles a day, it said.
The government has pledged £40m funding, with a further £10.2m coming from East Riding of Yorkshire Council.
Graham Stuart MP said: "It's great to see people's calls for improvements on this road turned into reality."
More stories from East Yorkshire and northern Lincolnshire
The A164 will be turned into a dual carriageway for 6 miles (9.7km) between the Lincoln Way and Castle Hill roundabouts in an effort to speed up traffic.
The Jock's Lodge junction is also to be reconfigured to ease congestion.
A pedestrian path and cycle crossing will also be built over the A1079 between York and Hull, which carries 20,000 vehicles a day.
Councillor Stephen Parnaby, leader of the council, said: "The A164 and the A1079 are two of the busiest routes in the East Riding.
"We'll need to work with residents, with businesses particularly farmers, but we'll do our best to mitigate circumstances."
The upgrade is due to be completed by 2022.