Baby dubbed 'little superhero' due to Batman-like birthmark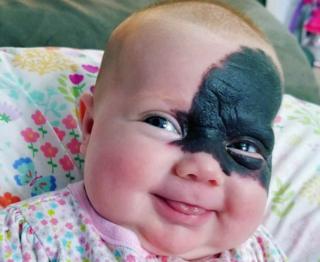 A baby girl has been dubbed a "little superhero" due to the Batman mask-like birthmark covering a third of her face.
Four-month-old Natalie Jackson was born with the black birthmark which is expected to grow as she gets older.
Parents Lacey and Andrew said instead of getting it removed they would encourage Natalie to be proud of it.
Her mum said: "People tell us how amazing her birthmark is and how gorgeous she is and we couldn't agree more."
Mrs Jackson and her husband Andrew, who is originally from Hull, said they were initially "filled with panic" when they first saw the distinctive mark across her daughter's face.
Natalie was born on 9 January at Sanford USD Medical Centre in South Dakota in the US, where the family now live.
"She was so beautiful but it looked like a bruise and I was worried in case it was something I had done to her during my pregnancy," said Mrs Jackson.
"Medics said it was just a birthmark though, and she was breathing and healthy."
Her superhero nickname came after her brothers Elliot, seven and Devin, four, met their sister for the first time.
Mrs Jackson said: "One of the boys asked, 'What's that on her face mum? What's that black mark?'
"I told him it was her superhero mask. I told them that, because of it, she could achieve anything."
Although her parents worry the birthmark may attract cruel comments, they are determined their daughter will embrace her uniqueness.
"We'll always tell her it's a part of who she is and who she is supposed to be," Mrs Jackson said.
"We know she will come up against some difficulties, but her mark means she is going to be stronger no matter what life throws at her."