Labour keep power in Hull despite Lib Dem gains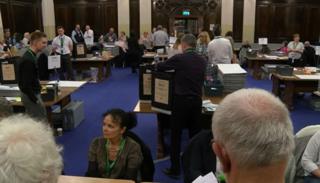 Labour has remained in power in Hull but with a reduced majority as the Liberal Democrats gained extra seats.
The ruling party saw a seven-seat drop in its total, taking 31 seats with the Lib Dems share in the council chamber increasing to 24.
The all-out election meant that every single seat on the council was contested.
In North East Lincolnshire, Labour has hung on to remain the biggest party despite Tory gains.
The overall turnout in Hull was 25%, with six wards pulling in under 20%.
Read more election news from across East Yorkshire and northern Lincolnshire
Labour was defending a sizeable majority in the city but the Lib Dems dented the ruling grip, including gaining all three seats in the Holderness ward.
Hull North Lib Dem councillor Mike Ross said: "Many people thought the Liberal Democrats were going to be dead in places like Hull.
"Far from it. We've shown with the results that actually we're alive and kicking and we're on the up."
Stephen Brady, Hull leader, said they were focusing on the future. He said: "We put out heads down and fight on.
"We've got great plans for the next year and we will be here next year at the local elections and I'm sure we will be winning some of those seats back."
In North East Lincolnshire, candidates had to endure three counts in Immingham to determine which party would lead.
Two seats were up for grabs in the ward following the death of councillor Mike Burton earlier this year.
Labour and the Conservatives won a seat each, but with 19 seats overall compared to the Tories 18, Labour retained control.