Whitby Lifeboat crew suspended after 'sexual material' probe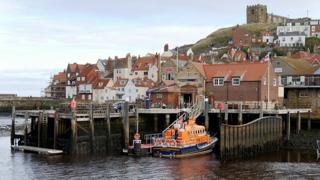 Two lifeboat volunteers in Whitby have been suspended after the RNLI launched an investigation into the "production of inappropriate material of a sexual nature".
The charity said there was also "associated social media activity directed at an RNLI staff member".
Three other people have also resigned from the North Yorkshire lifeboat station.
A petition has been launched online to get the volunteers reinstated.
In a statement, the RNLI said: "We are aware of speculation about the issue on social media but we want to stress that this was not a trivial matter."
"The lifeboat station should be an environment where people can expect to be treated with dignity and respect.
"We cannot allow bullying, harassment or discrimination in what should be a safe and inclusive environment and there will be serious consequences for anybody who demonstrates this behaviour within the RNLI."
The organisation added : "Our dedicated volunteers represent the values and principles of our organisation and we will not allow any behaviour that brings the work of the RNLI and our people into disrepute."
The RNLI said the volunteers had the right to challenge their suspension and that the operations of Whitby lifeboat had not been affected.