Life in a laundrette exhibition begins in Hull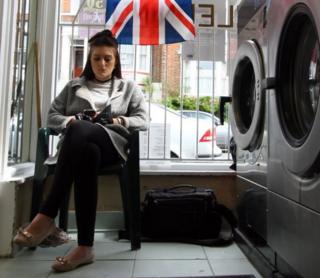 An exhibition capturing the comings and goings of life in a laundrette has begun in Hull.
Launderama is a photographic exhibition by David Drasdo, who has spent the past 18 months capturing images from laundrettes across Yorkshire.
He said the idea came from visiting a laundrette in Hull, where the people "were all very friendly".
The exhibition, at the Creative and Cultural gallery in Princes Quay shopping centre, runs until 25 May.
Talking about his inspiration, the artist said: "I was just passing the laundrette on Queen's Road in Hull.
"I just went in and got on really well with everyone in the laundrette, and thought we'll take it from here."
"The thing I like about laundrettes is they are all very friendly, and full of interesting people," he added.
Co-curator Julie Shakesby said the photographs were important from a social history perspective, and were quite different to anything she had been involved with previously.
---
Famous laundrette scenes
Levi's 1985 501 jeans advert with Nick Kamen featured the actor stripping down to his underpants in a laundrette
A scene emulated by Mitch Baker (pictured above) during an episode of Eastenders
In an episode of the Young Ones, Rick, Mike, Neil and Vyvyan are shamed into visiting a laundrette after one of Vyvyan's socks escapes. Vyvyan says: "I hate these places," and tells Mike: "I would rather go to a lecture than a laundrette"
My Beautiful Launderette, a 1985 British comedy-drama, tells the story of a British Asian man and an old school friend who take on the running of a laundrette, and along the way become lovers
In Friends, Ross saves the day after a woman tries to make a move on Rachel's machine, he then pulls out a giant box of "extra tough" Uberweiss detergent
A scene in Fight Club sees Marla, played by Helena Bonham Carter, stealing clothes from a laundrette to sell on
In Anchorman 2, Brick Tamland goes on a date at a laundrette with Chani, and compares her beauty to that of the laundrette's bathroom
---