Thieves steal DIY SOS volunteer's tool collection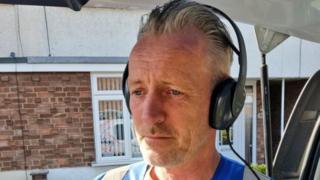 Thieves have stolen thousands of pounds worth of tools belonging to a former soldier who volunteers on DIY SOS.
Paul Matson was on his way to help out on renovating a house in Hessle, near Hull, for the BBC programme when he found his van had been ransacked.
The tools have been collected by Mr Matson over a period of 20 years but he has now been left with nothing.
Mr Matson, founder of charity Hull 4 Heroes which helps struggling veterans, said: "I'm gutted."
He said the Mercedes Sprinter van, which was kitted out with high security, was broken into outside his home on Main Street in Bilton overnight on Wednesday.
"I woke up to come and help the lads on DIY SOS and opened the side of the van and all the tools were gone," he added.
"There's some major tools on board that van, items which cost over a £1,000 on their own."
Mr Matson set up Hull 4 Heroes in 2016 after leaving the Army and struggling to get back on his feet.
He said despite the theft he would still continue to help out on the house, which is being renovated by Nick Knowles and his team.
"I'm a working man at the end of the day, what I'm doing here is for free but the tools going missing aren't going to stop me."
Knowles, who presents DIY SOS, tweeted: "This is not Hull. Hull is here helping us build a house for a family.
"People who stole Paul's tools have no community."
Sgt Nail Taylor, from Humberside Police, said Mr Matson "was offering to do his bit for the community and someone has now taken his tools".
"We want to try and get them back to him so he can help out with the building project," he added.