Humber 'envy of world' for offshore wind energy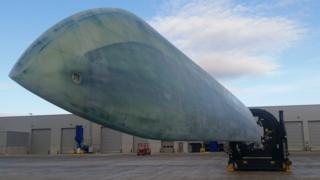 The Humber estuary has become "the envy of the world" for offshore wind energy, according to an industry manufacturer.
Ray Thompson, of Siemens Gamesa, is to tell a conference "the Humber is seen as the benchmark location for offshore wind - it's the envy of the world".
The company makes giant offshore wind turbine blades in Hull, East Yorkshire.
Hull and Grimsby now "support the manufacture, installation and service, or cradle-to-grave of the offshore wind energy", said the University of Hull.
More stories from East Yorkshire and northern Lincolnshire
Mr Thompson is to address the Offshore Wind Connections conference in Hull next week.
He said: "Investment, innovation and collaboration is consolidating the Humber as a major hub for offshore wind.
"Ten years ago if you wanted to see how the wind industry worked you went to Bremerhaven in Germany.
"Now everybody wants to come to Hull to see how it's done."
The Humber estuary flows into the North Sea between Hull, in the East Riding of Yorkshire, and Grimsby in North East Lincolnshire
Siemens and Associated British Ports have invested about £310m at a waterfront location at the city's Alexandra Dock.
The 10 acre (40,000 sq m) blade factory is part of a 133 acre (540,000 sq m) development.
David Wells, the university's wind sector specialist, said: "There is now an ecostructure of investment across the Humber that covers the breadth of the sector."
Paul Swinney, of the think tank Centre for Cities, said the investment had "brought much-needed jobs to Hull, and may have helped to attract other firms to the city".
However, the city still faces a challenge to attract more high-skilled firms and jobs that would "be crucial for boosting wages in the city - which are among the lowest in the country", he said.
A 2017 report commissioned by the University of Hull suggested UK offshore wind jobs could reach 21,000 by 2032, up from about 10,000 full-time equivalent jobs.
The bulk of that employment should be along the east coast of England, with a concentration around the Humber, it said.