Majid Mustafa: Hull dentist 'attempted to obtain date rape drug'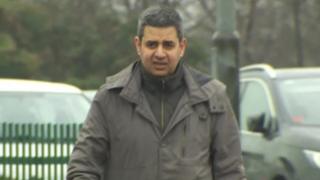 A dentist wanted to get hold of a date rape drug so that he could find out if his wife was having an affair, a court has heard.
Majid Mustafa, 48, of Hull, is accused of encouraging his friend Robert Lipinski to obtain a noxious substance.
The jury at Doncaster Crown Court was told he also installed spy cameras in his wife Renata Antczak's car and used software to monitor her phone calls.
Dr Mustafa, of Beamsley Way, denies the charge.
More on this and other Hull stories
Prosecutor John Thackray claimed that in 2017 Dr Mustafa "became obsessed" with wanting to find out whether his wife was having an affair.
"He started trying to discover the truth," said Mr Thackray.
"He went to great lengths to install spy cameras in the car, install software on the computer and other software which enabled him to record phone calls."
Mr Thackray said that during a phone conversation Mr Lipinski and Dr Mustafa discussed obtaining the so-called date rape drug GHB.
In a transcript of one of the calls read out to the court, Mr Lipinski said the drug was a "psychotropic agent" which used to be used by the Army.
He said: "The person has short-term memory loss. After eight hours there's no trace of it in the body.
"The moment she takes it, after 15 minutes she'll have short-term memory loss. That's why this is used as a rape drug. She remembers nothing."
Dr Mustafa replied: "OK Robert. This is what needs to be done."
Mr Lipinski added it could be used to "interrogate" someone who had taken it, and the prosecutor told the court that Dr Mustafa "certainly didn't dissent".
The trial continues.