Hundreds of jobs at risk at Grimsby seafood firm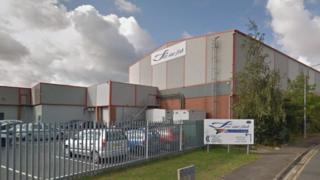 Nearly 400 jobs at a seafood company are at at risk after its owners said the business was "heavily loss-making".
Grimsby-based Five Star Fish, part of the 2 Sisters Food Group, said despite recent investment its factory was "not sustainable in its current form".
It said "no final decision" had been made but it had begun a consultation with staff and customers about the future of the business.
Five Star Fish employs 390 people at the Great Grimsby Business Park site.
More stories from across East Yorkshire and northern Lincolnshire
A spokesman for Five Star, which supplies fish to firms including Marks and Spencer, said: "Five Star Fish has undertaken a full strategic review of its business and has concluded its operation at Grimsby is not sustainable in its current form for the long-term.
"The site is heavily loss-making and despite major investment in recent years, we are unable to reverse the situation.
"Regrettably, we have now reached a stage where we have to enter into a period of consultation with colleagues and customers about the future of the site and what it might mean for them.
"It is important to emphasise that no final decisions have yet been made as the consultation process has only just begun."
Melanie Onn, the Labour MP for Great Grimsby, said: "This will come as a huge blow to those people who have been working for Five Star, it is a well known local employer."
She said she hoped to speak to Marks and Spencer about keeping the contract in the local area.