Humber Bridge climbers prosecuted for trespass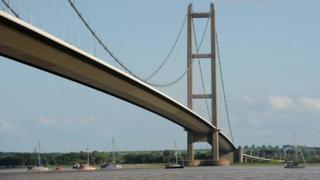 Four men who tried to climb the Humber Bridge have been prosecuted for trespass.
On 26 July two men started climbing up the cable supports before abandoning the attempt when police arrived.
A few days later, Peter Taylor and Jesal Parshotan from London scaled the 156m (510ft) high bridge.
The Humber Bridge Board brought a private prosecution at Hull Magistrates' Court for breaching its byelaws.
More on this and other East Yorkshire stories
Jay Swingler, 23, from Dudley, West Midlands pleaded guilty and was fined £135.
Axel Grassi-Havnen, 21, from Sutton Coldfield, West Midlands also pleaded guilty and was fined £100.
Taylor, 18, and Parshotan, 28, pleaded guilty to climbing the bridge on 1 August last year. They were both fined £235 with £125 costs.
The Humber Bridge Board said it had increased security measures to prevent future incidents.
Dr Kevin Moore, chief executive of the Humber Bridge, said: "As these prosecutions demonstrate, we take a zero-tolerance approach to people illegally climbing the Humber Bridge.
"We want people to understand how dangerous these actions are to themselves and other members of the public."