More than 100 dogs removed in Killingholme rescue centre raid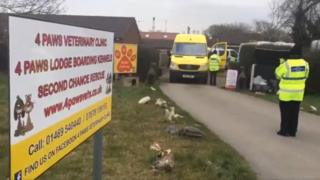 More than a hundred dogs have been removed from a vets and rescue centre in North Lincolnshire during a huge raid by police and RSPCA inspectors.
The RSPCA said they were taken away from the 4 Paws Veterinary Clinic on Habrough Road, in South Killingholme, after a warrant was executed by police.
Inspectors said they were investigating welfare conditions at the site.
Humberside Police would not confirm any details, but said the inquiry was based on an intelligence-led operation.
A number of cats were also put into crates to remove them from the site.
Ch Insp Ian Briggs, from the RSPCA's special operations unit, said: "The animals are all being moved into a safe secure environment where they will be cared for, treated for any ailments and monitored for any infectious diseases.
"They will remain in the care of the RSPCA and the Dogs Trust throughout the investigation."
No arrests have been made but he said a number of people were "helping us with our inquiries and have been taken away by the police".
"We're investigating everything about this organisation," said Mr Briggs.
"The operation has been built over the last few weeks. It involves information coming in from concerned members of the public."
According to its sign, the 4 Paws Veterinary Clinic also runs dog kennels, as well as being a rescue centre.
Mr Briggs advised anyone who has obtained animals from 4 Paws or has dogs at its kennels to contact the RSPCA.
Insp Tim Harvey, of Humberside Police, said: "We and our colleagues at the RSPCA are currently carrying out an intel-led operation at an animal rescue organisation in Killingholme.
"At this stage, we cannot confirm any further details, as the investigation is ongoing."