Hull City of Culture 2017: Audience of five million for events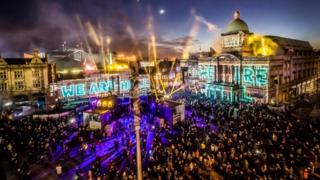 Hull's tenure as the UK City of Culture attracted an audience of more than five million people, £220m of investment and 800 new jobs, according to a report.
The 2017 events brought "the national spotlight", more visitors and "unprecedented media coverage", the University of Hull said.
An "extraordinary" 95% of city residents went to at least one cultural activity, it said.
But only about 20% of visitors were from elsewhere in the UK, it found.
The research was carried out by the University of Hull's Culture, Place and Policy Institute.
Professor Glenn Burgess, the university's deputy vice-chancellor said Hull's population had had an "extraordinary buy-in" of the events.
The help from volunteers had been "wonderfully heart-warming", he said, and had left audiences with an "overwhelmingly positive impression of the city".
More stories from East Yorkshire
---
The report's key findings
There were more than 2,800 activities, installations and exhibitions during the year-long cultural celebration
Younger audiences aged 16-34 years old were under-represented at events, though there was a high representation of people aged 55-64
The 800 new jobs created since 2013, in the visitor and cultural sector, were a result of £220m investment "fully or partly attributable" to the City of Culture award
There was a "significant increase" in arts and culture participation and a new confidence in the city
About 2,4000 volunteers provided an estimated 337,000 hours of help
Annual visitor figures are expected to see a 1.3m increase on 2013, when Hull was chosen to be city of culture
---
Council leader Stephen Brady said: "Investing in culture actually does bring about real change."
Coventry has been chosen to be the UK's City of Culture for 2021.