Karl Turner denies inappropriate mastectomy comments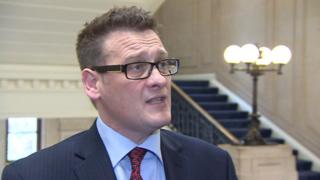 A shadow minister has denied behaving inappropriately after claims that he made offensive sexual comments and "slapped" a woman on her buttocks.
Karl Turner is alleged to have touched the party member's bottom in 2015, according to an anonymous witness quoted by the Financial Times (FT).
They said the Labour MP also remarked the woman, who had had a double mastectomy, shouldn't have had her breasts removed as "they were great".
The MP "strongly rejected" the reports.
More on this story and others in East Yorkshire
The witness told the newspaper the Hull East MP touched the woman as she walked through his constituency office and responded with a comment similar to "I couldn't help myself" when challenged.
The shadow transport minister allegedly followed up his comments about the woman's mastectomy by adding: "The ones you've got now are nice enough."
Responding to the claims, Mr Turner said: "I am aware of reports in the media about my alleged inappropriate behaviour.
"I strongly reject any suggestion that I behaved inappropriately or in a misogynistic manner."
The Labour Party said it takes all complaints about inappropriate behaviour "extremely seriously" and appealed for anyone with a complaint to contact the party to allow allegations to be fully investigated.