Pleasure Island carousel bidder let off sale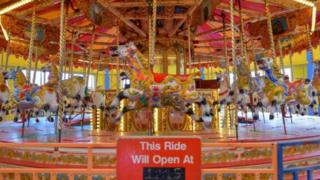 A man who mistakenly bid £180,000 for a fairground carousel will not be forced to buy it, the auctioneers have said.
Carl Vince, from Prestige Auctions in Grimsby, said the firm would "not pursue" the online bidder.
The 114-year-old roundabout was one of thousands of items sold from the closed Pleasure Island theme park in Cleethorpes.
The total cost of the sale, including fees and VAT, was in the region of £245,000.
More on this and other Lincolnshire stories
The unnamed bidder claimed he was attempting to close his browser when he unintentionally placed the wining £180,000 bid.
Mr Vince said a number of other people had expressed an interest in buying the ride.
"The story is not over yet," he said.
"We've got three different parties coming from different parts of the UK to look at it this week."
One potential buyer is the owner of a Cleethorpes fish and chip restaurant.
Dino Papas has launched an online fundraising campaign to try and keep the historic ride in the town.