Thames Ambulance Service 'inept and disorganised'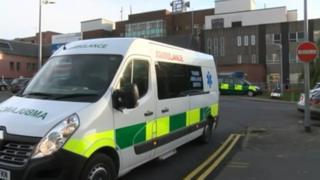 Staff working for Thames Ambulance Service described the service as "inept and disorganised", a report shows.
Patients also raised concerns about frequent delays, or ambulances not arriving at all.
The comments came to light in a Care Quality Commission report following an inspection of its Lincolnshire operation.
The ambulance service said it disputed parts of the but accepted the recommendations.
The CQC said prior to the inspection they received 25 concerns regarding delayed transport, regarding its operation in Lincolnshire.
One delay in Grimsby saw 13 patients stuck in hospital for several hours, with no communication as to when transport would arrive.
Most ended up paying for taxis to take them home.
The report also found evidence of low morale at the Grimsby and Scunthorpe sites, where staff said they felt unsupported.
One worker in Scunthorpe described the service as "inept and disorganised", and said staff were not listened to.
Ambulance 'not roadworthy'
Another said managers stuck together and were incapable of giving clear answers.
Problems with vehicles were also highlighted in the report, with one vehicle being 5,000 miles over its scheduled service.
The floor of one vehicle had not been lowered, resulting in some patients in wheelchairs having to travel with their head on one side for the entire journey.
Another vehicle, which had been in an accident, was still being used at the Scunthorpe site despite a notice on the dashboard saying it was not roadworthy.
The CQC has made a number of recommendations, including having a clear system to deal with vehicle faults and complaints.
In a statement, Thames Ambulance Service said: "We are taking these recommendations extremely seriously and everyone is working hard to get our service to where it needs to be.
"We are confident the action plan will deliver significant improvements for both patients and staff and we look forward to working with the CQC".