Auctioneer in merry-go-round over £180k carousel bid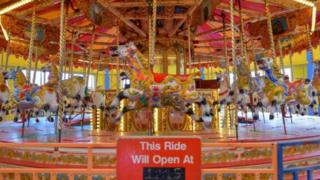 A bungling online-auction bidder bought a disused fairground carousel for £180,000 with a pledge that he says was made in error.
The ride, dating back to 1904, was among hundreds of items from the former Pleasure Island theme park in Cleethorpes being auctioned off.
The man claimed he clicked the button to make a bid unintentionally when he went to close his browser.
Prestige Auctions said it has left them in a tricky position.
The merry-go-round was being auctioned at the defunct amusement park on Wednesday with a reserve price of £180,000.
It received no bids from the room but just before the lot was closed the sole bid came in from the man - who is not being named - via the internet.
The carousel has legally been sold but discussions are ongoing to decide whether to hold the buyer to his purchase.
Auctioneer Carl Vince said: "The gentleman concerned had been buying other items, and claimed he was trying to close his browser window when he hit the bid button by mistake."
'Not ruining lives'
Mr Vince said while he sympathised with the gentleman, who is from Lincolnshire, the bid button is very clear, and is in the middle of the page.
"Not where you would try to close a window," he said.
The auction house said if someone is prepared to put in a new bid on the item, it would look at cancelling the internet bid.
"Prestige Auctions are not in the business of ruining people's lives," Mr Vince added.
With fees and VAT the amount owed is in the region of £245,000.
The park first opened in 1993 and was then closed in 2010 before reopening shortly afterwards under a change of management.
However, a fall in visitor numbers led to the permanent closure of the site six years later.