Blue plaque for Hull philanthropist Zachariah Pearson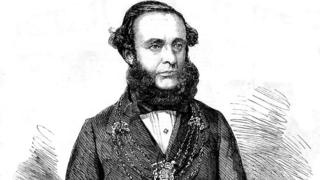 A wealthy ship owner who gave land to the city of Hull for its first park has been remembered with a blue plaque.
Zachariah Pearson donated land off Beverley Road in 1860 to establish the park now named after him.
The plaque is on his former home at 64 Pearson Park, where he lived for more than 25 years before his death in 1891.
Mr Pearson played an important role in the social welfare of the city and was twice the Mayor of Hull, in 1859 and 1861 but was also declared bankrupt.
More news stories from East Yorkshire
Who was Zachariah Pearson?
Born in east Hull in 1821 became a wealthy and successful ship owner and philanthropist.
Mr Pearson helped with a dock improvement scheme to improve the efficiency of Hull as a port.
He gave money to the conversion of a building into a Sailors' Home and for the opening of the Hull Temporary Home for Fallen Women.
He went bankrupt when he owed more than £600,000 after disastrous business dealings - some made during the American Civil War.
He was called "a swindler" by opponents and polarised opinion.
Pearson Park retains many historic features including a perimeter carriage drive, a serpentine lake and seven Grade II-listed structures.
Work to restore and improve the park with a £3m lottery grant is due to start later in the year.