Bridlington marina plans put on hold due to £115m cost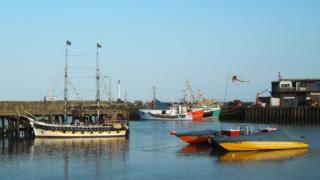 Plans for a major redevelopment of Bridlington harbour have been put on hold because they are too expensive, according to the local council.
East Riding of Yorkshire Council and Bridlington Harbour Commissioners want a new marina for leisure boats.
However, local authority officials have said the £115m needed is not affordable in the current financial climate.
The town's commercial fishing fleet would have remained in the existing harbour.
The plans were for a 250-berth marina, a new pier and an extension to the existing pier; as well as improved facilities for the fishing fleet, vessel maintenance and storage facilities.
More from East Yorkshire and north Lincolnshire
Council leader Stephen Parnaby said: "It is with a heavy heart that the decision has had to be made to put this game-changing project on hold."
"Unfortunately, due to the current financial climate... the scheme would be unaffordable," he added.
The authority said it would continue to work with harbour commissioners to look for options which were workable and affordable for both parties.
The creation of a smaller marina within the existing harbour area is one option being considered.
Chris Wright, chairman of Bridlington Harbour Commissioners, said: "By looking at investing in the existing harbour infrastructure, we can safeguard the town's important fishing industry and lay the foundations for future development."