Roads close for River Hull flood defence work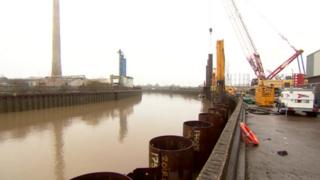 Work has started on a £36.5m project to repair and improve flood defences in the centre of Hull.
The Environment Agency (EA) said the work along a 657ft (200m) stretch of the River Hull would provide protection for more than 60,000 properties.
It said the current defences could fail within two years if it was not undertaken.
Motorists will face disruption as roads in the Bankside area of the city will be closed until May.
Brendan Sharkey, from the EA, said: "We are working with our partners to progress the work as efficiently as possible, but we need to be realistic about how long this complex river work may take."
The city was badly flooded in 2007 affecting more than 10,000 properties.