Banksy mural to stay on Hull's Scott Street bridge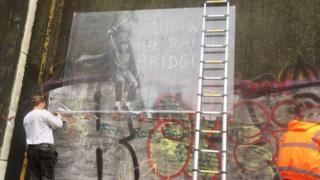 A mural by the graffiti artist Banksy on a disused bridge in Hull is to stay there permanently, according to Hull City Council.
The stencilled design depicts a child carrying a wooden sword with a pencil attached to the end, next to the text "Draw the raised bridge!"
The council has confirmed the mural is to stay in situ and be protected.
The work on Scott Street bridge, Wincolmlee, was whitewashed on Sunday night but restored by a window cleaner.
More stories from East Yorkshire and northern Lincolnshire
Jason Fanthorpe, the cleaner, and a number of other helpers used water and white spirit to partly restore the image.
Because of the whitewash the council has since installed a protective cover over the work.
A new, more permanent cover is to be installed to protect the mural and make the most of it in the future, the council added.
A steady stream of people have been visiting the riverside street to take photos of the mural after images of it were shared on Banksy's Instagram account.
BBC Arts Editor Will Gompertz previously described Banksy as a "good artist and a genius PR man".
"I don't think you can remove it," he said.
"I think the whole point of Banksy's work is they are what is called site specific... they work because of the places they've been put and if you remove the location the work loses its power."