Amy Johnson replica plane to stay in Hull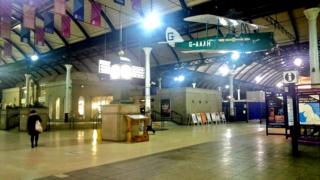 A full-scale replica of the plane Amy Johnson used in her solo flight to Australia will continue to be displayed in Hull.
The copy of the Gipsy Moth was built by inmates at Hull prison and has been on display for 2017 City of Culture.
A move to the Yorkshire Air Museum, on the former RAF Elvington station, near York, was announced in November.
After a campaign against the decision it is now to be hung from the ceiling of St Stephen's shopping centre.
More stories from East Yorkshire and northern Lincolnshire
The model of the aircraft used by Johnson is to be taken down from Paragon railway station's ceiling after 12 months on display.
Johnson was born in Hull in 1903 and in 1930 she flew the original plane from London to Darwin in 19 days.
Jim Harris, of St Stephen's said, the plane would be "spruced up" before being winched up to hang from the shopping centre's ceiling in about six weeks.
"It is important the people of Hull can see it", he said.
The shopping centre, next to the railway station, has about 12m visits annually, he added.
Mr Harris said the centre would be "the first recipient, not necessarily the last."
Diana Johnson, Labour MP for North Hull, said: "It's a great new home where lots of people will see it and be reminded of Amy Johnson and what she did."
Gary Sword, of HMP Hull, said: "I'm pleased it is staying in Hull."
Building the replica had taken about 3,600 hours work by seven prisoners and several staff, he said.
The prison service originally said "no suitable locations" in the city could be found for the plane "due to its size".