Man cleared over Facebook comment about travellers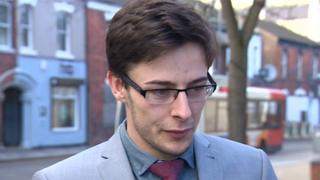 A man who posted offensive comments on Facebook about travellers has been cleared of inciting racial hatred.
Joshua North, 25, from Cleethorpes, North East Lincolnshire, called for "a national batter gypos day" in the post, which he claimed was "satirical".
The jury at Grimsby Crown Court took an hour to find him not guilty after hearing the evidence.
Travellers' advocate Shay Clipson described the collected comments on the page as "alarming and distressing".
More on this and other North East Lincolnshire stories
Mr North, of Franklin Place, said that he made the statement to mock other people's "hateful comments" on the website.
The jury heard during that during a police interview he said: "I literally just made that comment as comedy".
'Purely satirical'
When he was asked by an officer "Did you have any intention of trying to get people to group together?" he replied "definitely not".
Mr North told the court: "In no way, shape or form did I intend there should be a national day. It was said in purely satirical terms."
Ms Clipson of the National Alliance of Gypsy Traveller and Roma Women alerted the police to the comments which were published in July.
She said even if the comments were intended as a joke, it was wrong to post them.
"When people go online and write things like these they've got no control over who is reading it," she said.
After the case concluded, Humberside Police defended its decision to charge Mr North, stating it takes hate crime allegations seriously.
The Crown Prosecution Service (CPS) supported the view there was sufficient evidence and a realistic prospect of conviction.
It said in statement: "The role of the CPS is not to decide whether a person is guilty of a criminal offence but to make fair, independent and objective assessments about whether it is appropriate to present charges for a jury to consider and we respect their decision."