Military history unearthed in tunnel dig under Spurn base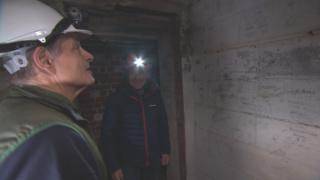 A warren of tunnels has been found under abandoned military installations at the mouth of the Humber estuary.
Excavations at Spurn Point revealed soldiers' scribbles and drawings on the walls under the base that protected the ports of Hull and Grimsby.
Simon Davies, a military historian, said: "We could have a hundred years of graffiti here."
It is hoped guided tours of some of the tunnels on Spurn could be offered later this year.
More stories from across East Yorkshire and northern Lincolnshire
Spurn was garrisoned from 1805 during the Napoleonic War until it was finally abandoned by the military in the late 1950s. At its height there were about 1,500 personnel on the narrow spit and in nearby Kilnsea.
The guns of the World War One Goodwin battery based at Spurn Point had a range of 10 miles (16km) and were part of a series of fortifications to protect a vital waterway for goods and shipping to the ports.
Coastal erosion saw parts of the battery washed away more than 20 years ago but inside the tunnels, long-forgotten graffiti, pictures and poems can be seen on white-washed walls.
Volunteers have spent months digging out a portion of Spurn's military installations but there is still much to do to make it safe for public viewing.
In December 2013, a tidal surge in the North Sea swamped the land, damaging the road connecting the tip of the point with the mainland. It is now a tidal island.
You can see this story in full on BBC Inside Out Yorkshire and Lincolnshire at 19:30 GMT on BBC One on Monday 29 January, or via iPlayer for 30 days afterwards.