Brenda Fisher: Channel swimmer honoured with blue plaque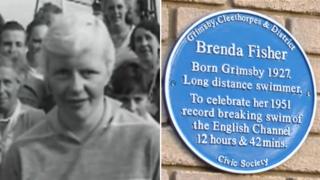 A woman who once held the women's world record for swimming the English Channel has been awarded a blue plaque in her home town to mark her achievements.
Brenda Fisher took 12 hours 42 minutes to complete the 21-mile swim in 1951, beating the last time by 38 minutes.
Her other aquatic endeavours included swimming the channel two further times and winning a 29-mile River Nile swim.
At the ceremony, held at the Grimsby Fishing Heritage Centre, the 90-year-old described it as a "great honour".
After completing her debut channel swim, her homecoming reputedly saw crowds of more than 20,000 line the town's streets.
She also became only the third person in history to complete the 32-mile Lake Ontario swim from Niagara to Toronto.
According to her biography, "Blonde in Deep Water", her fame led to an appearance on The Ed Sullivan Show in the US and a meeting with Elvis Presley.
After retiring from distance swimming, she became a swimming teacher in Grimsby. In 2016, she was awarded the freedom of the borough.
She said: "I've tried to help Grimsby and it's an honour to be a Grimbarian - I've lived in the house I live in now for all of my 90 years.
"It has been swimming all of the way and I hope that I've helped to put Grimsby on the map."